Shipping Charges
All orders sent to a mailing address in the United States are shipped at NO CHARGE. This applies to direct retail orders only. See international shipping policy below.
International Orders
All orders are payable in U.S. Dollars. For all orders sent to a mailing address outside of the United States, there will be a $35.00 USD shipping charge regardless of order value or package weight.  This is a special international flat rate offer that applies to direct retail orders only.  Please contact us for other available international shipping rates.
Sales Tax
New York State Sales Tax will be charged on all retail orders shipped to a New York State mailing address.
Personal Checks
Checks should be payable to "The N Scale Architect". Please allow up to 10 business days for processing of orders paid by a personal check. A $35.00 bank fee is charged on all checks returned for non-payment or insufficient funds.
Lost or Stolen Shipment
All orders are shipped via a trackable insured USPS Priority Mail or FEDEX Ground service.  Upon request, a tracking number will be provided to the purchaser via e-mail. Small volume orders may be sent to a mailing address in the United States via a non-trackable USPS First Class Mail service. The delivery interval on these shipments may vary up to 3-4 weeks.  Should this interval be exceeded, the purchaser should contact us via e-mail for futher instructions. The procedure for items lost or stolen as part of a trackable shipment are provided by the individual shipping services. 
Order Processing
Orders are usually shipped within 7 to 10 business days of receipt. Should there be a delay or out-of stock condition for any of the items ordered, you will be contacted via e-mail. Should any ordered item become permanently unavailable or discontinued, you will be notified via e-mail and offered a credit or exchange for this item. Due to a high rate of credit card fraud on international orders, shipments to some countries may be held for up to 180 days for addditional processing.  For questions about your order, please feel free to contact us via phone or e-mail.
Return & Replacment Policy
If you are not satisfied with your purchase or no longer require the item that you purchased, it can be returned for a refund or exchanged for a different item. The purchaser pays all return shipping costs.  Exchanged items items are usually shipped at no additional charge if the exchanged item is of equal or higher cost to the returned item. We may limit the refund amount or require additional payment for the exchanged item if the returned item is damaged, incomplete, partially assembled or a special order and if the exchanged item is of a hgher cost.  Initial shipping charges may also be deducted from the refund amount or added to the cost of the exchanged item.  For international orders, please contact us before returning any items. If items are damaged in shipment, please retain all related packaging materials and contact us immediately.  Under most circumstances, missing or damaged pieces will be replaced at no charge.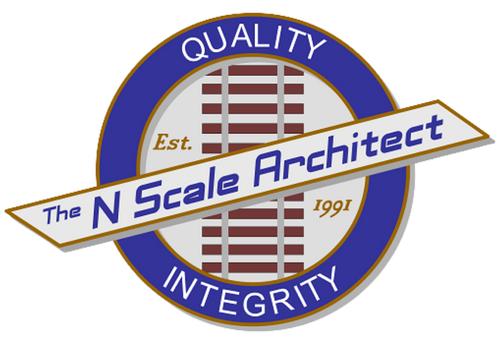 All content of this website is considered to be the sole property of The N Scale Architect. Any use or reproduction in part or as a whole without the written permission of The N Scale Architect is prohibited. The N Scale Architect is a manufacturer of laser cut kits, cast resin and metal alloy kits, photo-etched brass & stainless steel kits, vehicle & scenic detailing parts, 3-D printed car kits and styrene plastic sheets for building architectural and scratch built models in HO, N, Z, O, G & 1/2" Scales. All Rights Reserved 2023.